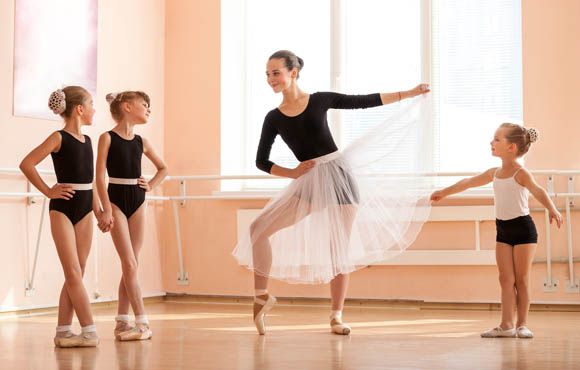 There are so many things to love about ballet; the grace, the poise, the ease with which dancers glide across the stage. Then there's the other side that you don't see on stage; the expense, countless hours of practice, bloody toes and competition over lead roles.
There's a lot to love and a lot to question about putting your child in ballet. But some of the skills and practices demanded of ballet dancers translate into the real world, where things like discipline, hard work and a respectful attitude can be applied to just about anything.


The beauty of ballet is that the online training teaches kids so much more than just how to dance and perform on stage. Consider these skills when deciding whether or not to enroll your
child in the online ballet class
.
Strength

Ballet requires a person to have strength and agility. At OnlineBalletClass, we focus on developing children's muscle strength in a way that is both fun and beneficial. Strength training also teaches kids how to exercise and sets them up for a healthier lifestyle in the future.
Confidence
Discipline teaches young ballerinas to tear down their bad habits, and the very same dance classes can build up confidence through positive reinforcement. An experienced dance instructor will create many opportunities to increase your dancer's self-confidence while learning ballet online.
There are many kids who can't even make eye contact when they start taking classes. Only a few months later, they will come out of their shells and build strong relationships that can only form with a healthy dose of self-confidence.
Health
Along with learning how to properly strengthen their body, ballet teaches kids basic ways to stay healthy. This includes proper stretching techniques, flexibility practices, and discovering physical limits. It's important that kids learn this at a young age so they can avoid injury in the future and establish healthy habits.
Learning
Ballet is an art form. It inspires children to be creative and learn how to express themselves through movement. With music accompaniment in all of our lessons, children are exposed to an even truer sense of relationship between dance and music. Also, classical ballet is a great starting point for those who want to explore other forms of dance as well.
Creativity
Ballet is often considered to be art for athletes. Your kid will grow stronger and more flexible through the online lessons, but they will also grow more creative. Ballet creates a unique outlet for your dancer to translate their emotions, thoughts, and ideas into powerful movements.
Take "mood dancing," for example. Your kid's dance instructor will turn on music and then announce a certain emotion, such as sad or happy. The class will then translate the emotion into dance: slow, mopey strides for sadness or springy, explosive leaps for happiness.


Kids who may not be patient enough to sit at a table to paint or draw can discover their creativity on the floor of a dance studio. Bubbly energy is encouraged in this kind of art!
Join our ballet newsletter!
Created with